The Dallas Stars can clinch the Western Conference's second wild-card spot tonight. Or they can do it on Sunday in Glendale at Jobing.com Arena.
Two opportunities. Two chances. A margin for error, even, if you will. It all belongs to the Dallas Stars thanks to the continued slide by the Phoenix Coyotes, losers to the Nashville Predators last night.
The magic number is two. A Coyote loss to San Jose on Saturday... two OTL points by Dallas in their final two games... it doesn't matter. Just two additional points for Dallas ends their playoff drought.
Already down Ray Whitney and Rich Peverley, the Stars watched Alex Chiasson look awkward after a shot block Wednesday night and Trevor Daley left the game to have a laceration repaired, but returned. The team took an off-day Thursday to build the energy level back up after a nearly-unprecedented four-games-in-five-nights scenario.
They'll try to apply whatever energy has been recuperated against the mighty St. Louis Blues at the AAC tonight.
With a top-tier team in St. Louis you might ordinarily get a squad content with its lot in life, resting veterans and looking ahead to the post-season at this late stage in the season. Not so much with the Blues.
"The last two games, we're playing really hard but I don't know that we're playing smart," Blues coach Ken Hitchcock told media Thursday. "We are playing very hard, competing at a high level and we've got to keep building it forward. We're not playing as smart offensively as we did before, which gave us some of the goals."
St. Louis is now on a season-long four-game losing streak. They've been passed by the Anaheim Ducks and Colorado Avalanche, finding themselves facing a less-than-desirable matchup with the Chicago Blackhawks if things hold up.
So their motivation to win this game is not in any question. Nashville was desperate to stay alive mathematically. Columbus was desperate to clinch. This is no different. It's deadly serious business to these guys.
That having been said, they will likely be without their captain David Backes after he took some friendly fire in the foot earlier in the week. They hope to have him back when the playoffs commence.
Then there's this bit of adventure from last night as noted knuckle-dragger Mike Rupp stepped up on T.J Oshie in a likely illegal fashion. GIF from CBS Sports.com...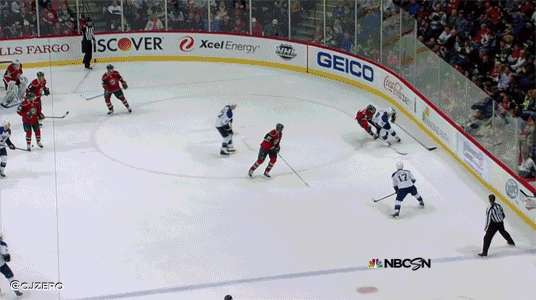 So they could be without him as well. Vladamir Tarasenko could also be out, so there's a significant chunk of their offensive potential missing.
(Recall Mike Rupp calling out Steve Ott publicly on New Years Eve 2008, for not fighting. Ott only had a completely broken hand at the time...)
But look at it even with those guys (Backes, Oshie) in the lineup. In their last five games they're 2-5-0. In those five games they've scored four even-strength goals. Four. And nine total in the four games. They're completely clogged-up offensively, though, you'd have to admit, due to break out at any time.
Ryan Miller was pulled last night in the third period after allowing 4 goals on just 13 shots. Brian Elliott played 15 minutes of relief last night and stopped all...two...shots he faced.
And those shots totals are where it finally gets concerning. St. Louis is a veritable mess right now but still managed to dominate possession last night, out-shooting the Wild by the staggering margin of 45-15.
This one, therefore, comes down to finish. Execution. The Stars have out-shot opponents by grandiose margins, only to see things go down in flames. Their record when recording over 40 shots speaks for itself. They face an opponent with a similar problem at present. Depth scoring and even spread on contribution are the keys to Dallas punching their ticket this evening.
Miller or Elliott is a fair question to ask, but not so on the Dallas side. The whole ballgame is on the table now, and it's Kari Lehtonen's to take or leave.
Come on out to the AAC tonight, we beg. They need you. They need all of us. We can push this thing over the goal-line together.