Over the course of this past season, I attempted to keep a better conversation about the prospects in the Dallas Stars system by publishing my top 20 rankings each month. The goal of those rankings was to provide context for how I felt the prospects were performing relative to skill, potential and importance to the Dallas Stars. In theory, the rankings were supposed to be "short sighted" and ranked solely based on a combination of overall potential and short-term performance. Any movement up or down the rankings was meant to reflect recent play.
With that in mind, I'll be changing up the prospect ranking system for next season. In fact, it won't even be a ranking so much as it will reflect the individual improvement or regression of each prospect as the season churns along. So, stay tuned for that in the future.
In the meantime, I've compiled an actual, no frills ranking for the prospects in the Dallas Stars system. Similar to Hockey's Future ranking, this list is meant to reflect where we feel each prospects ranks overall in the system -- potential, skill, performance, ceiling, etc. We'll go through each prospect one-by-one, counting down from #20 until we get to the #1 prospect in the system just in time to start gearing up for the NHL Entry Draft this summer.
The first player we'll look at, #20 on our list, is Troy Vance...
---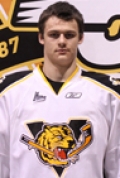 Troy Vance
Defenseman / Victoriaville Tigres, QMJHL
6-05
205
August 2, 1993

Drafted: 5th Round, 135th overall, 2011
---
| | GP | G | A | P | +/- | PIM | PPG | SHG | GWG | SOG | PCT |
| --- | --- | --- | --- | --- | --- | --- | --- | --- | --- | --- | --- |
| 2010 - Victoriaville Tigres | 23 | 1 | 4 | 5 | 8 | 21 | 0 | 0 | 0 | 8 | 12.5 |
| 2011 - Troy Vance | 57 | 4 | 20 | 24 | 17 | 45 | 0 | 0 | 1 | 17 | 23.5 |
The Dallas Stars have made it a point the past few years to get bigger, especially on the blue line. While Dallas has always favored big power-forwards and has historically targeted such a player in the past, the Stars system was in desperate need of big defensemen on the blue line who are also skilled with the puck -- a rare commodity in the NHL that is highly valued.
The Stars drafted Patrik Nemeth in 2010, then followed up in 2011 by taking two of the biggest defensemen in the draft. Jamie Oleksiak gets the most attention, but the hulking Troy Vance seemed to create a fan cult around him almost immediately. I'm not sure exactly why, but it was fun to watch when it happened.
Vance was an interesting draft pick by the Stars because it was the team's influence that directly led to him becoming draft eligible; the Stars recommended Vance move from the EJHL to the QMJHL -- and then promptly drafted him in the 5th round based on the advice of scout Alex LePore.
Headed into the draft Vance was considered a big, "offensive" defenseman who had a good skating ability for his size, good hockey intelligence and a decent shot that is able to find it's way through traffic -- when he decides to actually shoot. Vance, upon heading to Victoriaville in the middle of the 2010-11 season, instantly provided stability on the blue line for the Tigres and helped get them into the second round of the playoffs. The only question with Vance was just how much he could continue to develop his offense in a league known for producing offensively-minded defensemen.
The answer, of course, is still unclear. Vance was the 2nd leading scorer on his team among defensemen and raised his point total from the year before to 24 points in 57 games, with a very respectable plus-17 rating on the season. As you can see above, Vance had just 17 shots total on the season (although who knows how good stat keeping in the QMJHL is, this number may be well off) and it appears that Vance has taken on a much more defensively-minded role as the season progressed.
Talking to scouts, it's clear that Vance's strength lies in his mobility relative to his size. A big defenseman like Vance usually has trouble with his skating and especially has an issue in close-quarters play where smaller players are able to use their agility to get around the big guys in front. Vance doesn't have this issue and he's been able to develop a keen ability on the defensive side of his game that shows that while he may have been considered an "offensive" defenseman when he was drafted, he likely projects a very large blue liner who can effectively move the puck out of the zone in transition when needed.
Vance is just #20 on this list but he has the potential to skyrocket up the ranking next season if he continues to develop along this curve. The Stars are making a attempt at building a system that breeds big, strong defensemen with good puck skills and players like that are a very valuable commodity in the NHL. Vance is getting rave reviews about his ability to defend around the net and in transition, and despite limited power play time with the Tigers has put up fairly respectable offensive numbers.
Vance is still just 18 years old and is relatively young for a prospect of his experience level. He still has time to hone his already-considerable hockey intelligence and to continue to build upon his offensive skill. It's his size and ability to defend in front, however, that makes him an exciting prospect to watch.